Faculty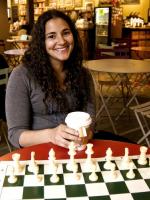 Laurie Santos [personal webpage] [cv]
Laurie is the director of the Comparative Cognition Laboratory and the Canine Cognition Center at Yale. She received her A.B. in Psychology and Biology from Harvard University in 1997 and her Ph.D. in Psychology from Harvard in 2003. She is an Associate Professor in the Department of Psychology.
Lab Manager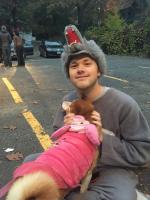 Michael Bogese
Michael graduated from Yale University in 2014 with a B.A. in Anthropology. He worked in the Canine Cognition Center for a year prior to starting as the Canine Cognition Center manager. (Pictured with Roxy during CCC 2014 Howl-oween).
Graduate Students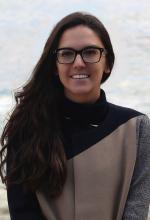 Alyssa Arre [personal webpage]
Alyssa is interested in the development of perspective taking abilities and other social behaviors in both children and nonhuman primates. Her work at Cayo Santiago seeks to map out the developmental trajectory of certain social behaviors in nonhuman primates to better understand how human-unique factors like formal schooling, language, and environment affect the rate and order of development. Prior to working at Yale, Alyssa graduated from the University of Rochester with a B.S. in Evolutionary Biology & Ecology in 2015.
Molly Crossman
Molly is interested in human-animal interaction (HAI) and animal-assisted therapy. Specifically, Molly is interested in how HAI may be used to promote mentalizing development in children with autism, as well as to provide efficient and engaging treatments for a range of populations. At the Canine Cognition Lab, Molly is exploring how people think about and interact with their pets. Before coming to Yale in 2013, Molly graduated from Tufts University with a B.A. in child development and psychology.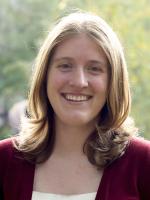 Angie Johnston [personal webpage]
Angie's research sets out to answer the question "How do people learn accurate information from others, and how can we strengthen this ability?" Her work in the Canine Cognition Lab is aimed a exploring the potential evolutionary origins of teaching and social learning by investigating whether or not canine populations learn from others in the same way humans do. Before coming to Yale in 2012, Angie received her B.A. in Psychology and her B.S. in Child Development from the University of Texas at Dallas.
Matthew Jordan
Matt graduated from Northeastern University where he majored in Decision Neuroscience. Before coming to Yale, he studied behavioral economics at The Brookings Institution. His research investigates the evolutionary bases of decision-making processes and the cognitive structures responsible for forming social preferences.
Alumni
Justine Aw (YC 2005)
Melissa Baranay (YC 2011, Lab Manager: 2011-2012)
Jennifer Barnes (YC 2006, Ph.D.: 2007-2012)
Marcela Benitez (YC 2007, Lab Manager: 2007-2008)
Louisa Egan Brad (Ph.D.: 2003-2008)
Nick Buttrick (YC 2008, Lab Manager: 2008-2011)
Linda Chang (YC 2012, Lab Manager: 2012-2015)
Erik Cheries (Ph.D.: 2002-2007)
Paul Cohen (YC 2013)
Lindsey Drayton (Ph.D.: 2011-2017)
Brian Edwards (YC 2008)
Jonathan Flombaum (Ph.D.: 2003-2008)
Ellen Furlong (Post-Doc: 2010-2013)
Courtney Glavis-Bloom (YC 2004)
Liz Gunderson​ (YC 2005)
Kelly Hughes (Ph.D.: 2007-2012)
Venkat Lakshminarayanan (YC 2007, Ph.D.: 2007-2012)
Kristi Leimgruber (Ph.D.: 2009-2014)
Derek Lyons (Ph.D.: 2004-2008)
Drew Marticorena (YC 2008)
Alia Martin (Ph.D.: 2009-2014)
Katie McAuliffe(Post-Doc: 2013-2015)
Dakota McCoy   (YC 2013)  
Koleen McCrink (Ph.D.: 2002-2007)
Cora Mukerji (YC 2011)
George Newman (Ph.D.: 2004-2008)
Webb Phillips (Ph.D.: 2005-2010)
Albert Powers (YC 2004)
Alexandra Rosati​ (Post-Doc: 2013-2015)
Ben Rottman (Ph.D.: 2006-2011)
April Ruiz (YC 2005, Post-Doc: 2009-2011)
Cecilia Sanchez (YC 2013)
Adena Schachner (YC 2006)
Maya Shankar (YC 2007)
Alex Shaw(Ph.D.: 2008-2013)
Mark Sheskin (Ph.D.: 2007-2013)
Meg Sosnowski (YC 2013)
Amy Skerry (YC 2010)
Mariko (Yamaguchi) Moher (YC 2005)